In less than 2 weeks we will welcome 2017 and we can look back at a great 2016 for Hacking Tutorials. Since the start of Hacking Tutorials.org in early 2015 the number of visitors and hacking tutorials has grown a lot. In a couple days we will welcome visitor number 1.000.000! This number is far beyond our expectations when we have started this website.
In 2016 we have expanded the tutorial sections with Metasploit tutorials, Networking Tutorials, exploit tutorials and we have made a start with reviewing hacking courses. The first hacking course we have followed and reviewed was Offensive Security's OSCP course. OSCP was a great experience and is a course I will definitely recommend to anyone who's serious about getting in the field of penetration testing and ethical hacking. Let's have a look what's on the agenda for hacking tutorials 2017.
Hacking Tutorials 2017 – Mission and Vision
At this moment we are very busy with the plans for hacking tutorials 2017. These plans involve a lot more hands-on training in the field of penetration testing and ethical hacking. As you might have noticed in the last few months we are focusing more on penetration testing as a process. This process covers reconnaissance, enumeration, vulnerability assessment and exploitation of vulnerabilities. Instead of single independent hacking tutorials with no real prerequisites we are now focusing more on methodology, tutorial series which are advancing in difficulty and background information about exploits, networking and programming as well. We believe that penetration testing methodology, basic and advanced level information on a wide range of subjects and practical training will make you a better penetration tester. Our mission for 2017 is to provide better hacking tutorials and practical penetration testing training in virtual labs accessible for anyone.
Sign up for our newsletter or follow us on social media to stay informed about the virtual training labs!
Hacking Tutorials 2017
As mentioned we will be writing more hacking tutorials which will teach about penetration testing in general but also on more advanced subjects. In 2017 we will introduce new tutorial sections focused on hacking mobile devices and IoT devices. We are also working on a series of tutorials related to buffer overflows which will be a lot more advanced than the current tutorials. The first part of the buffer overflow tutorials will be published next week. Soon we will also start to follow and review Offensive Security's OSCE course. OSCE is teaching about more advanced subjects such as fuzzing, exploit development, anti virus evasion and identifying hard to find vulnerabilities.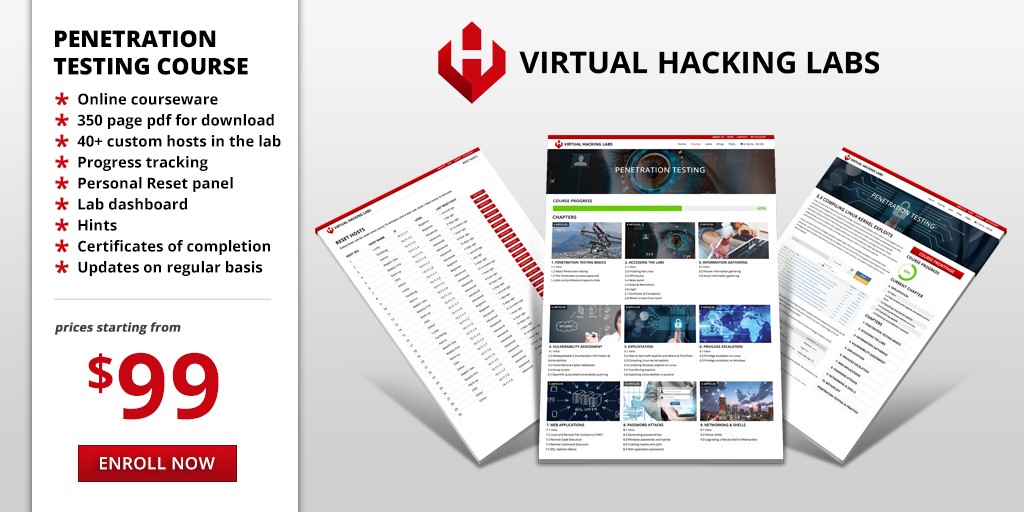 For now the warmest greetings and best wishes for the new year!